NEW!! Sollipulli Trek: 9-Day Horseback Trek around the Volcano Sollipulli
Sign up for our newest trek, a 9-day horseback ride through Huerquehue National Park, Rio Blanco Valley and Huachelepun, but most impressively, up to the high plains of the Sollipulli Volcano!

Sollipulli is an amalgamation of several volcanic hot spots with one massive, central, inactive crater and is a landscape of epic proportions. In 2011, our arrieros crossed Sollipulli on horseback, the first riders ever to do so, and now we are thrilled to be able to share this exquisite landscape with you.

Traverse scrubby plains that reach to the horizon; climb red-hued conical hills; and ride beneath the black and white, sand and snow, streaked plateaus and peaks of this giant volcano. Spend nine days on horseback exploring an amazing cross-section of the various environments Southern Chile has to offer: peaceful lakeside camps lead to dense, virgin rainforests with sky-high canopies, which give way to meandering river valleys, which in turn arrive at the breathtaking slopes of Sollipulli.

If you're looking for an adventure on horseback and the opportunity to see the rippled landscape of the Chilean Andes at its most pristine and impressive, come explore Sollipulli and its surrounding areas with us. Highlights include days riding through untouched forest and nights spent at natural hot springs and The Domes (permanently-installed tents in the forest).

But, no doubt the pinnacle of our trip will be our two ascents to Sollipulli and our arrival on the rim of its vast, glacier-filled crater!
Day 1: We pick you up in Pucon and welcome you to the ranch where we'll eat breakfast together. Then we'll take an initial ride through the Mapuche Indian community Quelhue and along the rapids of the Trancura River to evaluate your riding experience, get familiar with the saddle and tack, and determine which horses to take on our adventure. In the afternoon we'll go to our base camp at Laguna Geppinger, make dinner and enjoy the evening on the lakeside.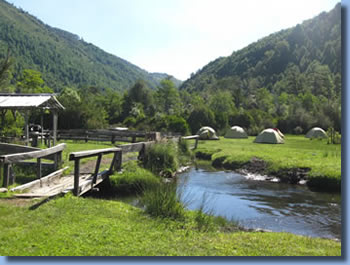 Day 2: Leaving Laguna Geppinger, we'll ride deeper into the Huife valley past rural farms and peaceful countryside. After lunch in the shade, we'll enter the dense rainforests typical of southern Chile, and wind our way around the massive trunks of the Coighue trees. Eventually we'll meet with an old logging access road and follow it down the Rio Blanco Valley until we arrive at our campsite at Termas San Sebastian. There we'll set up camp, cook dinner over the fire, and relax in the natural hot springs.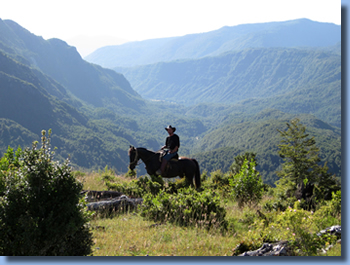 Day 3: After a hot bath in the morning we'll head back into the forest, ascending out of the valley toward the dramatic peaks of Sollipulli. We'll emerge from the forest onto the high, rolling plains beneath the volcano's crater and cross the vast landscape and conical hills. There, with the snow-capped volcano above, and the entire mountainous region of southern Chile spreading out before us, we'll make camp in the plains and enjoy our night alone in the mountains.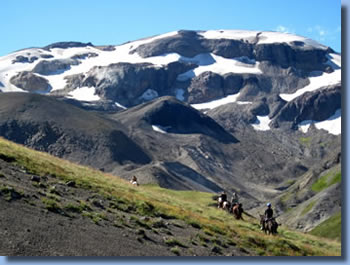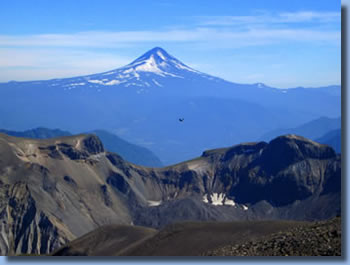 Day 4: Today we'll traverse this intense volcanic landscape and observe the various features of Sollipulli: bland hillsides of shale and slate; huge deserts of black volcanic sand; snow fields; and gushing streams of glacial runoff. From this high altitude we'll have truly stunning views of the dozens of volcanoes, mountain ranges and deep blue lakes that constitute the local landscape. In the afternoon we'll descend to the Flor de Valle valley and make camp in the back pasture of a local farmer.
Itinerary Glacier and Hot Springs Trail
Day 5: After a breakfast with fresh bread baked by the senora of the farmhouse, we'll continue down the valley for a more relaxing day of riding. We'll follow the Machin River, passing several isolated, rural farms tucked into corners of the valley, until we arrive to the area of Huachalepun and our campsite for the night at the Domes of Los Nevados de Sollipulli. We'll spend a night protected from the elements in these Domes, or permanently installed tents, and feast on a typical Chilean asado.
Day 6: To the Crater! We ascend out of the valley again, back up the hillsides of Sollipulli arriving on the rim of the vast, glacier-filled crater. We'll enjoy this spectacular sight before descending once again to our Flor de Valle campsite.
Day 7: After a full-day of riding through the low Flor de Vall valley and several winding hours through the dense bamboo and coigue forests of Huerquehue National Park, we'll reach Laguna Isolde, a crystal mountain lake surrounded by the peculiar Araucaria (monkey puzzle trees). We'll make camp nearby in a forest clearing and leave the horses in a paddock made of stacked tree trunks. Day 8: A day of dappled sunlight, rich greenery, thick forest canopies, and tranquil farm-dotted countryside will bring us back to our campsite at the natural hot springs in the Rio Blanco valley.
Day 9: We'll get an early start on our last day, riding out of the Rio Blanco Valley and meeting up sparkling tributaries of Caburgua Lake. We'll skirt this vast lake all day, following its rocky shore until we reach an abandoned farm in the mountains from where we'll descend and return to Antilco. Once back at the ranch we'll indulge in a huge barbecue and recount our adventures from this stunning trek.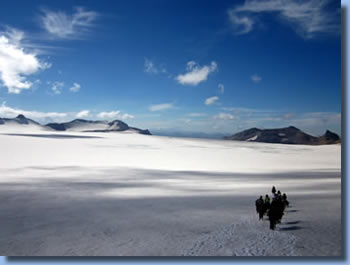 Facts about the horseback ride across the Andes Chile - Argentinien
Meeting point

9.00 am Pucon

Trail length

9 Days, 8 nights, 9 days on horseback

Number of Riders

2 - 8 riders

Type

Tent camp ride; luggage is carried on our horses and by pack horses.


Riders Qualification required

You should have medium physical condition, and somee experience on horseback . We ride up to 7 hours a day.

Accommodation

1 night in domos of "Ecocamp Sollipulli", 7 nights in tent camps.

Sanitary equipment

Shower, water, and toilet on1st,2nd,5th and 7th day, on the other days you are bathing in sparkling creek or lake.


Food

Complete food soft drinks from dinner on the first day to the farewell BBQ on the last riding day . On the trail we have breakfast, a snack at midday and dinner at the campfire. We serve wonderful Chilean and Argentinean wines for dinner.
| | |
| --- | --- |
| Includes | All transports from and to Pucón, all fees, all equipment from spoon to tent and sleeping mats. For the tent camps we have first class equipment, Salewa and The North Face tents,Thermarest mats, warm and comfortable sleeping bags. |
| Personal luggage | Here is a suggestion of things to bring to the ride. Weight and volume limit for personal items, excluding sleeping bag, mat and tent: 5 kilo / 11lbs, 10 liters / 610 cubic inches. |
Tstimonials about the Glacier and Hot Springs Horseback Trail
A new ride, no comments available yet.


Dates for our horseback rides in the season 2011/12
At almost any moment we can organize rides at different / additional dates with a minimum of 2 riders.
We do all our rides with a minimum of 2 riders, whenever we have a confirmed booking we put the date in the calendar so other riders can join.
Exception the Chile - Argentina rides where most departures are preassigned before the season; anyway sometimes we can add additional departures. Any daubts - please inquire.
Crossing the Andes - the Horseback Riding Adventure in Northern Patagonia - Chile - Argentina
Photos of the horseback ride Chile into Argentina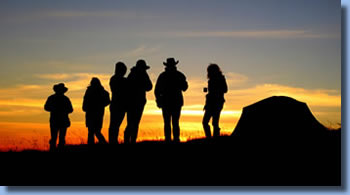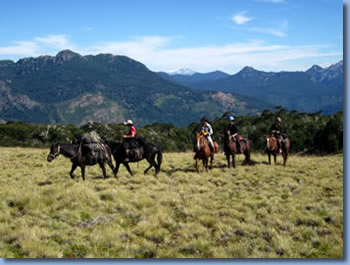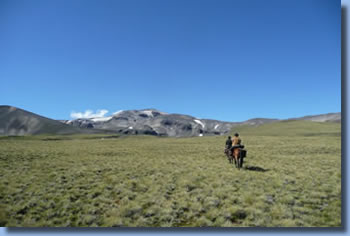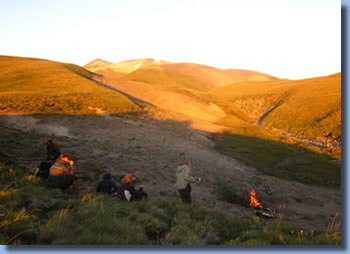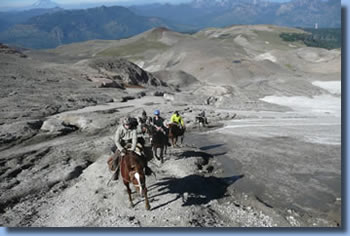 Riding up the slopes of Sollipulli
Highplane on the way to Sollipulli Volcanoe
Evening on the campsite of Sollipulli
which we cross on our ride to Sollipulli
© 2000 - Antilco - Horseback riding in Chile and Argentina