Programs
The Lake District is a peacefully beautiful region, with magnificent landscapes and charming countryside. You will find snow-capped volcanoes, steep mountain ranges covered with untouched rainforest, and rural, sprawling farms in the valleys.
Discover with us the natural beauty of the Andean valleys of the Pucón area. Relax on the farm, enjoy the family hospitality, explore the surroundings on your own, and join us on unique excursions around the National Parks Villarrica and Huerquehue - walking, on horseback and on the river.
Besides the option to house in one of the cabins and explorethe surroundings on your own (we love to give you a hand) we offer individually organized programs, housing and food, excursions and activities... all inclusive.
© 2000 -Antilco - cabins and rooms Pucon, Chile
Antilco - Horse back riding in Pucón, Chile cabins, rooms
Learn Spanish on the Farm

Together with Language Pucon, the language school in town we realize this course. In the morning you study Spanish, in the evening you have time for other activities or to keep on studying on the riverside or to try out the newly learned with the farmworkers.
Includes: Pick-up in Pucon, 6 nights in single room in our cabin, Spanish course 1:1, 15 hours, 3 hours per day. You cook your own meals.
More information about the course .
Variations such as 1:2, breakfast, dinner included are options as well - let us know your preferences.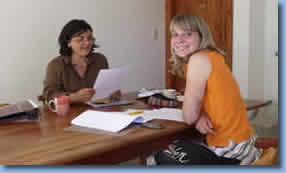 Horseback Trail Riding Program
You'll learn about the basic care needed when working with horses, cleaning coats and hooves, and handling the bridle and saddle. We'll show the Chilean way of horse riding which is ideal if you want to stay on horseback for several hours and cover long distances. After that preparation we have several options for tours on horseback.
More about the trailriding for beginner program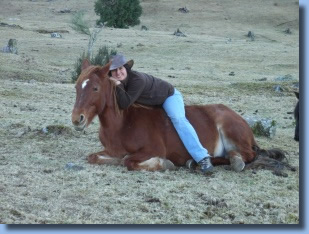 The Highlights of our Zone
A individually tailored program 3, 4 or more days.
Pucon is beautifully situated between the National Parks Villarrica and Huerquehue, the forest reserve Quelhue abnd the private park ElCañi, surrounded by numerous smal and big lakes. This priviliged situation makes Pucon an ideal spot for outdoor activities in southern Chile. Starting on the farm we can organize a number of tours, treks, activities, you find a list of suggestions here.
Combine your program and we organize transportation, guides, equipment.